Surviving Slow Business Months
As business owners, especially makers and creatives, we have to realize there will be slow months in business. There will be months where we are pushing forward and growing, but having the space for reflection and improving your internal operations has an equally important place in building your business.

So let's talk about these slow seasons and how we can use them to your advantage.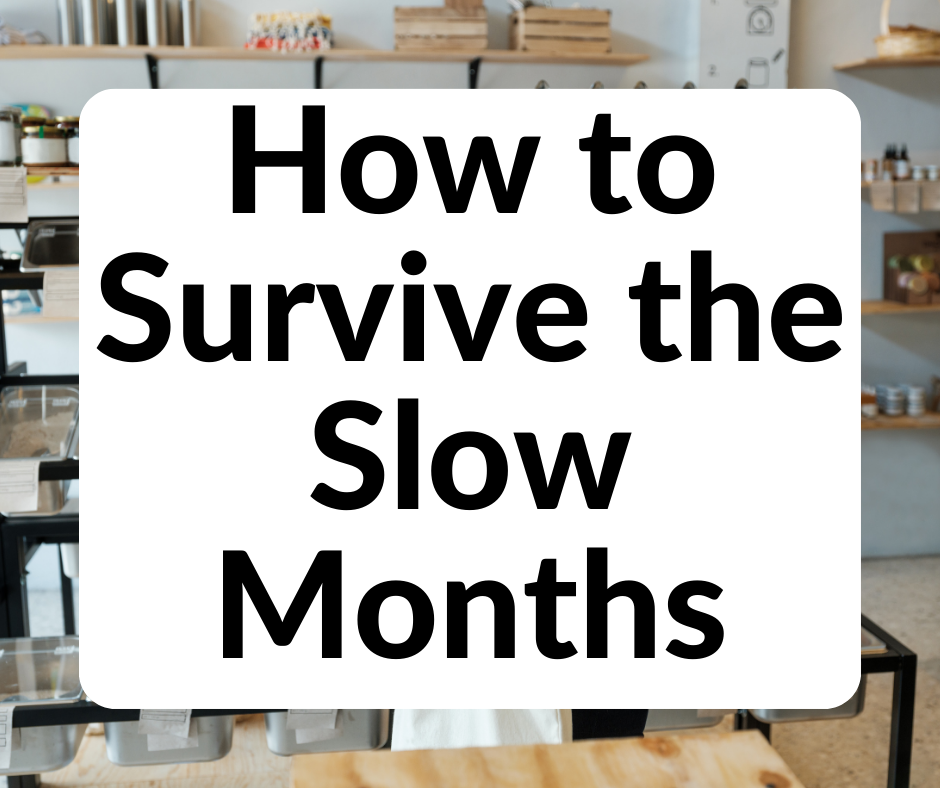 The moment that changed my business (and it can for you too!)
It's important to recognize the slow seasons so you can avoid frustration.
As I look back in the past years when I was stepping into my handmade business full-time I started to notice a pattern.
Every July I would begin to get so overwhelmed and in tears wondering if I could even do this. I just wanted to throw in the towel because I couldn't figure out why I was struggling so much.
The thing is by mid-September I would start to feel ready to buckle down again. And that's when my business grew steadily from then until June.
But as soon as July came I started struggling again.
Then eventually it hit me.
As a mom, my kids are home, and even if I've got them involved in activities, I just don't have the bandwidth to continue to actively push my business forward in those months.
It may be the slow summer months or another time for your business, where maintenance is fine, but pushing forward and growing just doesn't happen.
Regardless when this happens for you (and it's bound at some point) it's better to recognize these slow patterns and plan ahead strategically rather than watching your revenue and belief in your business steadily decline.
Reflecting on past data and what works best for your personal life and family situation will help you become aware of the seasons where it is best to focus on areas other than sales.
As product-based business owners, this awareness will help you put together a plan so you know exactly what to do the next time around while avoiding unnecessary burnout and exhaustion.
Staying busy during the slow seasons
Accepting the fact that you're gonna have some months that are lower in revenue than others is good. It allows you to put your energy in another area of your business so you don't keep pushing without seeing the return you are looking for.
During your busy months, is the time to create a buffer in your bank account so that you aren't worrying about your living expenses and can focus on the following four areas in your slow seasons.
Finances
I know thinking about finances may make you cringe. As an artist or creative, looking at the numbers in your business is probably your least favorite thing to do.
But understanding the difference between gross profit and net income will be such a game changer for you.
How to fix a common mistake when pricing your handmade products is a great place to start if you know this is something you struggle with.
And that's just one piece of your finances to consider.

Marketing and Visibility
Taking time to think through your marketing message and visual presentation of your products will greatly benefit you when things pick up again.
This might look like working on your website, hiring someone to do photography, or developing an email list.
Product development
Now is the time to prepare and create the pieces you'll sell during your next busy season.
You can be testing out new recipes, creating new products, or finding new suppliers.

Growth
Lastly, consider your process and systems.
Do you feel able to grow and sell more? Or are you at your limit?
If you're feeling maxed out, consider how you can make changes that will allow you to increase your revenue. That's definitely something worthy of your attention.
Next Steps
If you're ready to go from exhausted to energized for the next quarter, then take some time to consider the seasonality of your business.
It's this big picture planning that makes a seasonal business survive even in months without a high volume of sales.
If these four areas got you thinking about the possibilities, but you're not sure where to start then check out my free business assessment. This checklist will allow you to rate yourself and decide what you should tackle first.